What Our Customers Are Saying About CipherShare
"As an information security consulting company with a diverse and global client base, data integrity and confidentiality is our highest priority. Our business model historically has employed a 'virtual' environment; as such, CipherShare is the ideal collaboration tool to support our business practices."
Dave Beasant, Business Development Manager, 2Keys Corporation
"...few [collaboration solutions] offer the security options found in CipherShare... I liked the way CipherShare handles document management, especially the ability to download encrypted copies of documents and to work with them remotely."

Michael Caton &nbsp

Read the Review >>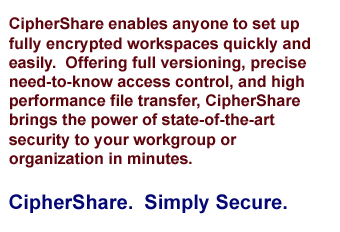 From engineering toprocurement management, from collaborative product design to audio visual production, Ciphershare combines no-compromise security and high performance collaboration.

CipherShare integrates encryption, file-sharing services, shared tasks, messaging and chat into a single application , and is the perfect solution for distributed or mobile teams working collaboratively with sensitive, proprietary or confidential information.

>> Take the CipherShare Tour (PDF)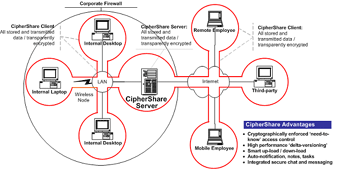 >> Read the CipherShare Overview (PDF)
Free CipherShare Download
Looking to securely collaborate with a group of 10 or less people? Download CipherShare for free and set up your own secure, private virtual workspace right now.

CipherShare offers state-of-the-art security within a fully integrated solution. All you need is a Windows server.
Are You Part of an Academic or Non-Profit Organization?
Are you an academic looking to bring together a distributed research team dealing with sensitive intellectual property?
Are you a registered non-profit organization looking to secure sensitive or confidential information?
CipherShare is freely available to any sized collaborative group within academic or non-profit institutions. Simply contact us and and we'll provide you with a free license.
>>Contact Proven Security Solutions
CipherShare Features
&nbsp

Security

End-to-end Encryption
Object Level Access Permission
Challenge/Response Authentication
Digital Signatures
No 'Super User'
Split Key Recovery
Key Signing and Verification
&nbsp

Document/File Management

Auto-Versioning and Audit
Check-in/Check-out
Auto-Notification
Full Content Search
&nbsp

Collaboration

Roaming Secure Workspace
Integrated Secure Messaging
Integrated Secure Chat
Auto-Notification
Full Content Search
&nbsp

Bandwidth Optimization

Streaming Encryption
Delta Versioning
Data Compression